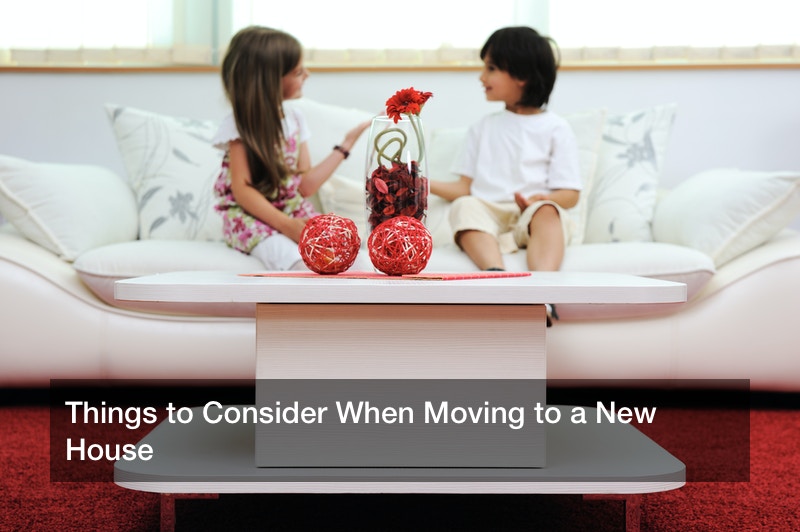 If you're thinking about relocating in the near future, you're in great company. Around 40 million people switched houses in 2018 alone, and the real estate market will continue to evolve as millions of Generation Z Americans age into the workforce. However, before buying property, you should learn the top things to consider when moving to a new house. Otherwise, you might make an expensive error that you'll regret not long after settling in.
What are the biggest things to consider when moving to a new house? Check out the top nine listed below, and you'll be well on your way to knowing what to look at beyond the obvious. Feel free to jot down some of your own, too. That way, you'll be ready to explore available homes in your area.
Take a Serious Look at the Plumbing
When you walk through any residence with your "things to consider when moving to a new house" checklist, make note of the plumbing. Don't just test the kitchen faucet or turn on the fancy shower head. Go deeper and take a gander at the water heater. Is it old? Rusty? Making strange noises?
Plumbing disasters can cost tens of thousands to repair, so avoid investing in any real estate with questionable plumbing. And if a residence you love runs on a septic system, find out all you can about the system's age and maintenance. The last thing you want is to make your purchase, only to find out the septic tank has started leaking into the surrounding ground.
As a side note, don't be afraid to ask current homeowners or tenants if you can pay a plumber to look around on your behalf. Tell the professional you hire that making sure all interior and exterior plumbing seems adequate is one of your things to consider when moving to a new house.
Go Between the Walls to Investigate Insulation
All homes should have a solid layer of insulation between the inside and outside walls and roof. However, insulation has changed quite a bit over the years. Now, many homeowners insist on blown-in insulation or insulation made from fiberglass. That's a healthier step-up from asbestos-laden insulation which was commonly used during the 1970s and before.
Why does it matter if your home contains asbestos? First of all, asbestos can be deadly when inhaled, leading to a type of cancer known as mesothelioma. Secondly, even if you aren't concerned about living with asbestos, someone else could be. For instance, if you try to sell your home and you know it has asbestos insulation, you won't get a competitive price. Finally, residential asbestos disposal services can be pricey. They can also put you in a position where you have to leave your home for a few days or weeks while safe removal of asbestos happens. Oh, and forget about renting out a house in the future if it's filled to the brim with the wrong type of insulation from top to bottom.
Basically, you'll be better off if you make knowing that you have enough and the right type of insulation one of the major things to consider when moving to a new house.
Give the Gutters More Than a Passing Glance
Most of the time, homebuyers barely think about gutters. Nevertheless, you should buck this trend. The next time you tour a house, take note of the state of the gutters. Do they seem to be properly working? Are they overflowing with debris or well-cleaned? And are there enough of them?
While you shouldn't automatically say "no" to a property just because its gutters are damaged or nonexistent, you do need to keep your budget in mind. Paying for gutter installation will eat up some of the money you could otherwise spend on a down payment. Regardless, you're better off knowing if you have to set dollars aside for new gutters if your dream home has a gutter problem.
Explore the Nooks and Crannies of the Garage
Garages tend to come up short on things to consider when moving to a new house. They should definitely be moved higher because they're spaces where a lot could be wrong. For example, if an unheated garage connects to the house, it may steal heat from the home during the colder months. Or the garage could be a breeding ground for anything from insects to pests to mold.
Poke around the garage at every property you entertain buying. Check the floors, walls, and ceiling for signs of water damage or other concerns. The garage doesn't have to be sparkling, but it shouldn't be falling apart, either. If it shares a roof with the property, make sure your home inspector finds out if the garage roof is the same age as the one on the house. It could be older, which would mean you'd have to replace it sooner.
As a last note, test the automatic garage door to see if it's in working order. If it's not, call a local garage door repair service for an estimate. Again, this isn't something that should completely wipe a home out of contention, but you deserve to know how much money you can expect to sink into immediate updates.
Crank up the Air Conditioning Units
Whether the home you're contemplating has central air conditioning or window units, you should turn them on unless you're planning to engage in a whole-house renovation including ductwork. Even if it's the dead of winter, see if you can try the air conditioners.
Not sure you're getting all the cool air you envision? Talk to some vendors about the cost to replace the air conditioning with a brand new unit. Surprisingly, many companies work with air conditioner carriers to give homeowners 0% financing deals on top-level units. Therefore, you might not have to pay as much out of pocket to get an air conditioner that will do the trick.
On the other hand, if the home doesn't have central air conditioning but relies on window units, decide if this matters to you. Would you rather buy a place already retrofitted with whole-house air conditioning? Or is this one of those things to consider when moving to a new house that won't make or break your final choice?
Figure out the Fire Safety of the Property
Some residences just look like they'd fall apart at the first inkling of smoke or fire. In those situations, you'd do well to run the other way with your realtor! Other properties may seem like they're fairly safe, but go farther to make certain that the home's up to fire standards and codes.
At the bare minimum, a house should have working fire extinguishers and smoke alarms available on all levels. Sometimes, a visual fire alarm inspection isn't enough. See if you can find out how far the homeowners have gone to ensure that their real estate is secure against fire. At this point, you may want to call in an electrician. Expert electricians will be able to spot problems such as exposed or incorrectly set up wiring.
This is one of those things to consider when moving to a new house that you shouldn't compromise on. You and your family are too important to live in a tinderbox.
Be Honest With Yourself About Needing More Storage
Sometimes, homebuyers can fall head over heels for a property, even if it doesn't seem to suit their needs. At that point, their list of things to consider when moving to a new house tends to fly out of the window due to their emotional connection with the home.
Try not to let this happen, particularly when you're being real about storage. A great example would be if you're looking at a home that's significantly smaller than the one you're currently living in. Will you honestly be willing to get rid of half your stuff? Or would you have to pay for monthly long term storage if you bought it?
A "yes" to storage shouldn't make you sad. In fact, it's a sign that you're preparing for an inevitable eventuality. Plenty of people who downsize their homes end up storing some furnishings, belongings, seasonal decor, and even vehicles offsite. There's nothing wrong with that. Nevertheless, you deserve to know upfront so you can seek out the nearest climate-controlled storage unit facilities.
Examine the Driveway, Entry, Walkways, and Patio Areas
If you buy the house you're visiting, you'll end up using all the means of access. These can include the driveway, entrances, exits, paths, and patio. Take time to see if those areas have any major flaws, such as a concrete driveway that's incredibly cracked, not to mention festooned with broken driveway gates.
Not surprisingly, outdoor driveways and walkways will wear down after only a few years because they're exposed to the elements. As things to consider when moving to a new house, they should still be in usable condition, even if they're in need of some minor or major upgrades.
However, if you notice that entry points don't seem to be safe, think long and hard about making an offer. You'll have to get them in working order well before move-in day, and that might mean delaying your move until a few weeks after closing. If possible, see if your seller would be willing to make some updates as part of your buyer's agreement contract.
Map out Your Moving Expenses
Finally, we come to the big question: How much is it going to cost you to move your personal items from where they are now to your new property? In order to provide a solid answer, you'll need to look at your checklist of things to consider when moving to a new house. Specifically, you'll want to think about whether you have enough storage or need your movers to take some items to a different location.
Additionally, you should give thought about how feasible it will be for your moving company of choice to carry all your stuff into your new residence. Will your baby grand piano actually fit through the door? Is your king-size bed honestly going to make it up the narrow stairs and hallway in your historic townhouse? If not, you'll have to either store or sell those items, which may change the number of things your movers will need to handle.
Another thought when mapping out moving expenses is if a standard moving provider can give you the personalized attention you need? For instance, if you own a lot of antiques or unusual items, you might need specialized care. Yes, you'll pay for it, but you'll get peace of mind knowing that you're not going to risk losing your priceless treasures due to a moving day error on the part of your movers.
A Final Thought: Sharing Your Things to Consider When Moving to a New House List
By now, your checklist of things to consider when moving to a new house should be a long document or several written pages. Unless you're moving solo, why not share your findings with the other important people in your life? Showing your list to kids can help them prepare for when they get older and want to buy property of their own.
Plus, it's easier to explain to family members why you chose not to invest in a residence when you can support your decisions with hard facts. "Honey, I know you loved the backyard pool. But the plumber said that the pipes going to the pool were rusting through. Digging up the yard would deplete our savings, and that's just not worth it."
At the end of the day, you want your next home to be a place where you can make memories without feeling like you got taken to the cleaners by the seller or realtor. The best way to ensure that you're in control from beginning to end is by carefully and thoughtfully exploring all the elements of properties you see that other people might neglect. By the time you make your bid, you'll be confident that it's the right one.