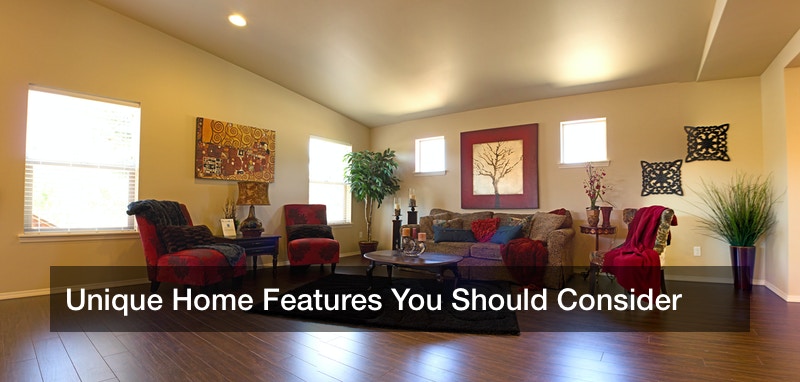 If you live in a cookie-cutter (architecturally speaking) home adding some unique home features will help your home stand out from the rest. Choosing the right unique home features comes with a wide range of benefits.
Learn about the tips and tricks for making your home uniquely your own. You do not have to spend a fortune to have a house that looks like you did.
Benefits of Adding Unique Home Features
There are quite a few benefits of working on adding unique home features to your house. It can improve your lifestyle, the aesthetics of your home, the value of your home, and give your house a custom look without the custom price tag.
All you have to do is look around you at all the new developments, while the homes are lovely, they do look an awful lot alike. Making your home a stand out property will instantly add value to your home. Unique home features can be as simple as adding a stylish upgraded new garage door. Simple, relatively inexpensive upgrades can add features to your home that will draw positive attention and upgrade your lifestyle as well.
Do an Audit of Your Home And Your Neighbors
If you are wondering where you should put your efforts and your money, take a look around. Audit your own home and take a look at your neighbor's house. Take a look at these areas and compare:
Is the exteriors similar or the same? For example, are your roofs the same style and color, and your vinyl siding the same style and color?
Take a look at the landscaping in each yard. Too much of the same same?
Are your kitchens identical? Bathrooms? Flooring? These are all areas that you can remodel to add some unique features to your home.
If everyone in the neighborhood has asphalt shingle roofs you can take the plunge and march to a different beat by adding metal roofing when it is time to replace your roof. This simple unique feature can add about 10K to the value of your home. A metal roof lasts about three times longer than a shingled roof. It is low maintenance and it can be one of the best unique home features to invest in.
Making your home look different on the outside can be enough to make your home a stand out in the community. Upgraded exterior features like lighting, unique landscape features, higher quality vinyl siding then your neighbors have are all simple upgrades that can add a little wow factor to your home.
Unique home features for the exterior living spaces are another great place to put some money. For example, installing a pool can be the perfect unique feature that delivers a great lifestyle return. Having things to do with kids at home can be a challenge but not when you are the house on the block with a pool.
Of course, you want to make sure that the pool is installed right and that it easily becomes part of the unique home features that make your home a stand out in the neighborhood. Call a pool company to do the installation to get a professional polished look for your pool area.
Another focus should be your landscaping. Curb appeal is important. You want to pull into the driveway and feel proud of your home and your unique home features like a well-kept lawn and lovely landscaping features.
If your property or your climate is just not conducive to growing that lush green lawn, don't write your landscaping possibilities off just yet. Synthetic grass has come a long way over the last couple of decades. In many areas of the US synthetic grass is a favorite. It can easily up the curb appeal of your property and give you the lush green lawn you want without the work or worry.
A well placed small koi pond, some native plants, a patio stone walkway, are all easy to install and can add some pop to your landscape. We hit on the idea of adding some new garage doors, consider the value of an automatic overhead door. It can add convenience, and complement the design of your home.
Move On Inside
There is something called "builders paint" that all home builders use when they are building a home unless you are willing to pay custom prices for custom paint. Builders paint is flat white paint. It is boring, and almost impossible to keep clean. Painting the interior of your home is a great way to highlight the unique home features of the space.
Of course, builders paint is not the only staple that is used when building a non-customized home, and that is okay. It can actually be cheaper for you to add the custom features after the fact than it is to have had those features incorporated during the build.
If you bought a preexisting home, you may find that the previous owners did not change much. This can be a good thing. You probably got a great price on the home because of the lack of unique home features, and now you can add the features that most appeal to you.
According to the experts, one of the best places to put your money when it comes to remodeling your home is the kitchen or the bathroom. For example, adding luxury natural stone countertops in the kitchen or new plumbing fixtures and quality tile in the bathroom. These changes will add value to your home, and add some unique home features that many of the houses in your area do not have.
Another way to add some unique home features is to add some built-ins. Built-in shelves are a hugely popular trend that can add some wow to the design of your home. A gifted carpenter can easily retrofit your home with built-ins.
Replacing carpeting with hardwood flooring can also make your home unique. Pocket doors instead of regular doors are also something that you do not find in every home. The sky is really the limit when it comes to adding features that are not found in other cookie-cutter built homes.
The bathroom deserves some special attention. Creating a spa-like setting in the bathroom is a lot easier than you think. No matter how small your bathroom space is changing just a few things can transform your bathroom into a spa-like experience.
Here are some tips that can easily make your bathroom a show stopper:
Switch out your shower head for a rain shower head. Change out other bathroom fixtures to upgraded fixtures.
Get rid of the bathroom vanity and replace it with a pedestal sink.
Invest in high-quality tiling. If you are going to have one big expense in the bathroom make it good quality tile.
You do not have to have space for a grand claw foot tub, if you do that would be a great addition, but if you don't you can make do with a walk-in shower and a rain shower head. Work with what you have to add those unique home features. Adding a towel warming rack would be a great unique home feature that is relatively inexpensive.
Choose neutral calming colors for the bathroom to deliver that spa-like vibe. If you have the space in your bathroom luxury features like a bidet would be a useful unique feature.
Home Automation
Not all unique home features are immediately obvious. Home automation is not obvious but it can easily be some of the most valuable unique home features. With a high tech home automation system you can control just about everything in your home remotely including:
All security features.
Window blinds.
Lighting sound, home theater, HVAC, and more.
Most people have a security system that can control with their smartphone, but that is certainly not where home automation ends. With today's technology, you can control every system in your home. You can turn lights on and off remotely, control the climate in your home, and even let the sunshine in.
One central remote for inside the home can control music, the home theater features, even the temperature on your thermostat. Whole-home automation can be the unique home features that make life more convenient and easier to manage.
Why stop with home automation? You can add appliances that offer high tech features like letting you see what is in the refrigerator from the supermarket. There are washers and dryers that can be connected to your wifi and that you can control via your smartphone. The future is now when it comes to unique home features that make life a lot easier.
There Is a Balance
If you plan on growing old in your home then adding features that will make it easy to get 24 hour in home care is fine, but if you do not, you may want to think again about adding features that are a little too unique.
There is a balance when it comes to adding unique home features to your home. You want your home to stand out and support your lifestyle, but you do not want o make your home so unique to you and your lifestyle that you cannot sell it when it is time to sell.
A good rule of thumb when it comes to choosing the features that you want to add is anything that is just a little over top should be something that you can remove if you need to. For example, you are really into medieval times, so you decide to make a little castle surround for your fireplace, you love it, but the next person that buys it may not. Yes, it is your house and you can have that castle surround, just make sure it can be removed someday.
Another example is a custom floor to ceiling aquarium, you may love it, but buyers may not. You may see a beautiful way to divide living space and they may see all the work it will take to keep the fish alive.
According to a recent survey, about 100 million Americans say they are planning on buying a home in the next few years. You do not want to feature yourself out of the market.
You do want to have some unique home features, but you do not want the uniqueness to run you right out of the market. Of course, again, if you plan on growing old in your home and never selling, then have at it, and get as unique as you want.
Useless Unique Home Features That are Just Nice To Have But Not a Good Investment
There is a list of unique home features that you are likely to never use. While it is really nice to have a professional chef's kitchen unless you are feeding hoards of people a few times a day, you likely will never use the warming draw, or the over the top stove and oven combo. You want unique home features for the kitchen but you do not want to go to the extreme.
Here are some things that are over the top and frankly not worthy of the investment:
Floor to ceiling windows when you simply do not have the right view. If your house is located on a lake that your house overlooks, go for it, but if your view consists of the neighbors across the street, don't waste your money.
A wine cellar. Invest in a wind fridge and call it a day. Unless you are uber-wealthy, this is not an amenity that you will use often and one that will add much value to your home.
A hot tub. Unless you are a committed user, do not waste your money on an outdoor hot tub. Most homeowners have admitted that they use theirs only a handful of times each year. They require a great deal of upkeep and often sit unused.
Other over the top upgrades include retrofitting your home for heated floors. Yes, it is simply delicious to step out of the shower and have the floors nice and warm underfoot, but the fact is the expense unless you have money to burn is not worth it.
If you want to get the most out of your upgrades, focus on lifestyle amenities that actually match your lifestyle. For example, a giant walk-in closet with a seating area is very luxurious, but wouldn't you rather have more space in the master?
Not all unique home features are a good idea. Give each project some thought before you commit.
Like this: a beautiful house inside, a really cool house, build custom luxury home, build your own luxury house, cool house items, cool things to get in your room, cool things to make your room better, cool things to make your room look cooler, create a new home, fun furniture ideas, home room ideas, ideas for your home, inside house decoration ideas, luxury new build homes, modern house items, modern household items, really cool stuff for your room, setting up a new home, amazing room designs, awesome house designs, awesome house pics.