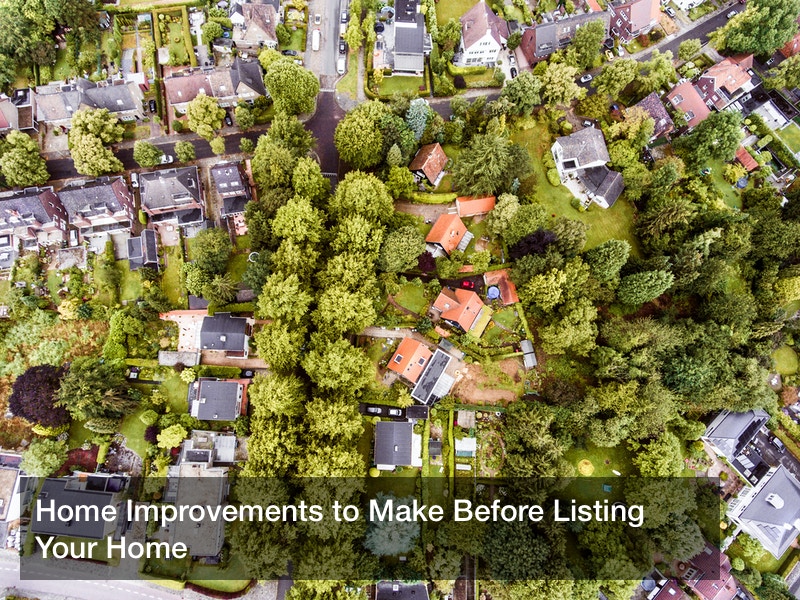 Selling a home can be a complicated process. Thanks to all the red tape, the sale and closing process will take an average of 65 and 93 days, according to Zillow. Further, "If multiple big-ticket items need repairs, your home is going to be harder to sell, and you're in danger of having a deal fall apart after the inspection," Zillow continues.
Successfully selling your house depends on a presentable home inspection. Passing with flying colors will help your home sell that much faster. Complete these repairs for an exceptional house inspection and to appeal to as many potential buyers as possible.
Start With Curb Appeal
Over 100 million U.S. men and women have plans to purchase a new house within the next five years. Even so, standing out on the housing market can be challenging. Attract the best possible buyer by focusing on curb appeal. Complete these curb appeal-related repairs before selling a house. "The buyer walks in and judges that house within 30 seconds so focus on the areas that prospective buyers will see immediately," CNBC writes.
Boost curb appeal starting with these key pointers:
Get some perspective. These days, just about all home sales begin online. In fact, HGTV reveals that an overwhelming 88% of buyers search for homes online first before viewing them in-person. Discover what fixes you need to make by thinking ahead to the pictures that may end up on apps like Realtor.com or Zillow. If prospective pictures of the outside of your home leave a lot to be desired, figure out why and do something about it.
Do a deep clean. A foolproof way to make your home look better is to clean the exterior of your home. That includes the siding, decks, driveways, and sidewalks. Pressure washing is a quick and cost-effective way to do it. Use the right attachments to carefully remove dirt, debris, mold, and mildew without damaging the outside of your home. When in doubt, hire a contractor to take care of the pressure washing for you.
Take an objective look at landscaping and hardscaping. A freshly mown lawn and recently pruned trees will greatly improve the appearance of your landscaping with relatively little effort. Cut back any large branches looming over or nearby your house, and take a look at hardscaping, like patios, walkways, pools, and fountains. Hire a swimming pool repair service to fix any glaring issues, like large cracks and imperfections or a green pool.
Add some flourishes. There are some simple and quick ways to spruce up the exterior of your home. Start by decorating your entryway. New house numbers, elegant planters, and colorful flowers can make an incredible difference. Plus, purchasing them, installing them, and arranging them takes less than a day.
If you know you need to make repairs before selling a house, but do not know where to start, start with what buyers see first. Start with curb appeal.
Pay Attention To Your Plumbing
Plumbing is one of those things you cannot afford to let go of, particularly right before you plan to list your home. Plumbing repairs are necessary repairs before selling a house. In fact, faulty plumbing is one of the top reasons for a bad house inspection. What's more, failing plumbing may not simply look bad. It may also constitute a mandatory repair, meaning that you have no choice but to fix it before the sale goes through. "Lender-required repairs encompass a home's major components and anything that might affect living conditions: structural defects (foundation cracks, roof leaks), inoperable or faulty systems (HVAC, electrical, plumbing), and so on," Home Light writes.
Save yourself the trouble of making major, last-minute repairs before selling a house. Do that by addressing any large-scale plumbing issues. This includes any problems with your hot water heater, toilets, or sump pump.
Obviously, a broken hot water heater is an inconvenience. Potential buyers may very well turn on faucets and sinks and be considerably deterred if they are not working properly. Oftentimes, not having hot water, however, is the least of your worries.
Did you know that a leaking hot water heater can cause flooding and water damage? If you suspect a leak, contact a plumber right away to avoid permanent water damage.
It goes without saying that toilet repair should be prioritized. It is one of the most important repairs before selling a house. No one wants to purchase a home with a toilet that is clogged or one that drains dangerously slowly. Take the "ick" factor out of your home sale and inspection altogether.
"According to the American Society of Home Inspectors, more than 60% of American homes suffer from below-ground wetness," How Stuff Works reveals. A sump pump is an integral part of home plumbing and not one to be ignored. Ensure that it is working properly before putting your home on the market. If your sump pump is making strange noises, continually running, rusting, or going in and out frequently, invest in reliable sump pump repair.
In addition to performing repairs before selling a house, sellers should perform regular maintenance to keep sump pumps in good working order. Routinely check the cord for any signs of damage or wear, and ensure the pump is plugged into a protected, ground fault circuit interrupter (GFI) outlet. Make sure that it is standing upright and not off-level should you notice vibrating, and "ensure the outlet pipes are tightly joined together and draining out at least 20 feet (6 meters) away from your foundation," How Stuff Works continues.
Fix Your Roof
If you are making repairs before selling a house, make sure roof repairs make the cut. Roofs that are dingy or in a state of visible disrepair can dramatically affect the likelihood of you selling your home. By contrast, a new roof will ultimately earn you a profit. According to Home Advisor, new roofs recoup an average of 109% of their original cost, and they can be the deciding factor for buyers looking at your home. "The results of the Remodeling Impact Report show that 32% of real estate agents said a new roof recently helped them cinch a deal for them," Home Advisor writes. Here are the telltale signs you need to contact roofing contractors about repairs or consider replacing your roof altogether:
You have missing, worn, or damaged shingles. Extreme weather events can strip away granules your roof shingles need to be effective. They can result in weather-worn shingles or tear shingles cleanly away from your roof. Schedule an annual roof inspection before listing your home, and request necessary repairs, like replacing missing shingles, before putting your house up for sale, too.
There are visible clues pointing to pests and/or infestation. Pest removal needs to be among your list of top repairs before selling a house. Pests like bees, wasps, termites, birds, and mice are all likely to make a home on your roof itself or inside your gutters. While birds are not typically considered "pests," excessive bird droppings can rot your roof. Roofing contractors can help you identify steps to deter birds from nesting on or near your roof. Mice gnaw wood and cables, bees and wasps damage shingles and weaken your roof, and termites cause significant, lasting damage by eating away the bulk of your roof. Look for damaged cables, damaged shingles, or nests and hives that indicate you may have a pest problem.
You have gaps around flashing. "Flashing a roof refers to the act of installing various waterproof materials in valleys, joints, edges, roof penetrations, and any other gaps to prevent water damage or leaks," according to Angie's List. Without appropriate flashing, your roof will leak, and that water will seep through your roof into attics and may cause water spots on your ceiling. Any flashing that isn't flush to your rooftop is a problem. These gaps defeat flashing's purpose. Hire a roofing contractor to address flashing issues right away.
Water is not draining away from your roof. If water is pooling on top of your roof or spilling down the side of your home unchecked, you have a big problem. Water that lingers or pools on top of your roof can grow too heavy and untimely buckle and cause significant water damage. Water pouring down the side of your home can cause structural damage or cracks in your foundation. Fix these problems by installing gutters or repairing existing gutters.
Repair What You Can't See
Yes, curb appeal is tremendously important. However, too many homeowners neglect important repairs before selling a house — namely repairs that prospective buyers cannot see but will come up during a home inspection and potentially delay the sale of your home. These repairs include heating repair and AC repairs. Think anything to do with your heating, ventilation, and air conditioning (HVAC) system. Here are some of the big ones.
HVAC repairs that pose fire hazards. If neglected, some HVAC issues can pose a fire hazard. One of the most common is dust and dirt accumulation over the spring, summer, and fall months. If this dust is left to buildup, it can ignite when you turn on the heat for the first time during winter. A biannual inspection will flag and resolve this problem. Other problems and potential fire hazards inspections will reveal are electrical problems, faulty gas connections, and furnaces liable to overheat due to over-crowding.
Furnace-related troubles. So what if you neglect furnace repairs and chimney inspections? Both can be a potential source of a carbon monoxide leak. Seek out necessary repairs and inspections to make sure your home is not vulnerable to a carbon monoxide leak, and make sure that carbon monoxide detectors work and have charged batteries.
Ventilation issues. Ventilation issues may lead to low indoor air quality, blocked or leaking ducts, and systems that do not work period.
When it comes to invisible fixes or what buyers cannot see, prioritize your HVAC system. Not only is it likely to be flagged during a house inspection, but it also poses a safety hazard — potentially causing a fire or dangerous gas leak — without appropriate repairs.
Small Cosmetic Fixes That Make A Big Difference
It stands to reason that you may not want to sink too much money into your home right before you sell it. First, know that this line of thinking can be a faulty one. Often completing repairs and maintenance helps you sell your home for more, and it can also make your home that much more competitive when it is on the market.
If you are determined to sell your home without major fixes, consider listing it "as-is" for transparency. This will let buyers know what to expect and reduce the likelihood of them backing out over repairs. Further, invest in small cosmetic fixes that will greatly improve the look of your home in a time crunch and without the exorbitant costs.
These small cosmetic touches include repainting the walls and door, quick door repair, like weatherstripping, installing new lighting fixtures, caulking in bathrooms and kitchens, and hiring a cleaning service to shampoo the carpet.
While completing these fixes, keep in mind that your goal is to appeal to as many buyers as possible. For example, choose neutral colors for that fresh layer of paint — colors like gray, beige, and cream — instead of choosing a color that may alienate the less adventurous buyers who come to view your home.
Remember making repairs before selling a house is part of the deal. In fact, those repairs can make or break it, according to Home Light. Complete major repairs to avoid any unpleasant surprises during the inspection. When and if additional repairs do come to light, think twice about being overly inflexible. Home Light reveals that an unwillingness to make repairs leads to 17% of terminated contracts or home sales.
Carefully make repairs before selling a house. Prioritize curb appeal to grab buyers' attention and get them into the house. From there, address big problems, like potential fire hazards, faulty plumbing, old roofs, and leaks, to ensure that your home sells.