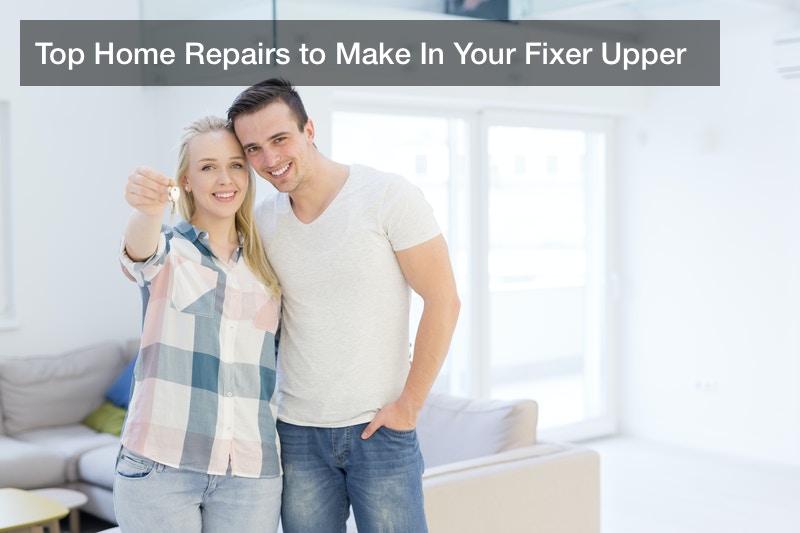 Completing routine home repairs or renovating a single room in your home can be too involved for some homeowners, but buying your own fixer upper home is a project that is on another level entirely, regardless of whether it is purely an investment or is going to be your personal residence. When buying a new fixer upper, you can easily become overwhelmed, especially when having to deal with hassles such as water damage remediation. It is crucial to formulate a plan and take each repair one step at a time. Although, it is important to recognize that your plans will vary greatly based on whether or not your fixer upper is merely an investment or your eventual home. Here are some of the top home repairs to make in your fixer upper.
A Fixer Upper As An Investment
Remodeling a home will be much easier if you are not simultaneously living in it, but you should still have a plan to make the process run smoother. The first step in a home remodel is usually to gut the home. This includes tearing down the walls which will give you the proper access to inspect the insulation, wiring, and windows. If you know for a fact that these three aspects of the home are in excellent condition, you can skip this step entirely. The more experienced home remodelers generally choose to perform this step so they can begin the remodel entirely from scratch and have full control over the insulation, wiring, and windows.
Once you have torn down the walls, you can replace or update the wiring, replace or reinforce the insulation so it is as thick as possible, especially around the windows, and replace the windows if necessary. If this is your first time renovating a fixer upper, you may need electrical contractors to handle the wiring component. Since you already have the walls down, this is the optimal time to remove and replace damaged or decaying window frames. It will be much easier if you do this job now rather than put off to be done later on down the line. Lastly, consider the flooring and decide whether or not you want to replace the material. After you complete these three basic steps of remodeling, you can proceed with the rest of the renovation.
Living In Your Fixer Upper
Whether you or someone else will be living in a fixer upper home during the renovation process, a more detailed plan needs to be formulated. If you are living with multiple people, you should incorporate their thoughts and opinions into the renovation plan. For instance, some people prefer to fast track the renovation process. They will pull out the trim, rip up the floor, and decide on a color scheme all at once. This will be fine if you are the only one living in the house. On the other hand, many people like to divide their remodeling plans into sections or categories, such as concentrating only on a single room at a time.
When living in a fixer upper during renovations, it is recommended to begin remodeling your bedroom first. This will go a long way towards helping you get the proper rest you need to complete the remodel. After that, focus your efforts on the kitchen and bathroom remodeling since it is a necessity that they are functional. However, make sure you do not rush the kitchen and bathroom renovations since they are the two rooms that will have the most immediate impact on the value of the home. If you decide to go the route of compartmentalizing your remodel, be sure to plan ahead and finish each room before beginning another one.
A Hybrid Approach
Rather than living in your fixer upper or at another location for the entirety of the renovation, you can employ a combination of the two if you find it to be more helpful. You could stay in a hotel or with a friend during the early stages of the remodel, or find cheap trailers for sale. This way, you can renovate the bathroom, kitchen, and most importantly, the bedroom without having to worry about these rooms being functional. This will allow you to complete the renovation faster and more smoothly. After these rooms are finished being remodeled, you can finally move in and finish the rest at your own preferred pace.
Top Home Repairs For Your Fixer Upper
Once you have decided if you will be staying in your fixer upper during the renovation, living somewhere else, or using a hybrid approach, you can begin making renovations that you are capable of doing yourself. These top home repairs can be made one by one as you can afford them. Here are some of the top home repairs that you can do yourself, are affordable, and make a huge impact.
Swapping Out The Lighting
Updating your lighting is one of the easiest top home repairs you can make. Any outdated or out of place lighting fixtures, such as an old fashioned gold chandelier, should be swapped out for fixtures that are more modern, such as a pendant light or even a modern chandelier equipped with LED bulbs. These are simple features that can be updated quite easily and will not run up your budget but will make a noticeable impact on the aesthetic appeal of your fixer upper.
Painting
A new paint job can totally change the look and feel of your fixer upper. A different color or shade of paint can help hide imperfections and give a room the color it desperately needs. White walls that lack color and brightness can also lack interest and result in a drearily dull looking room. Giving your fixer upper a color makeover is another one of the easiest top home repairs that is also cheap and makes a significant impact on the look and feel of your home.
Updating The Fixtures
Similar to lighting, a home's fixtures can become obsolete fairly quickly. Fixtures include equipment, decorations, or appliances that are attached to the house, such as ceiling fans, attached shelves, or even the mailbox, for instance. For most renovations, it is recommended to begin with fixtures such as faucets. First, start with the kitchen faucet followed by the bathroom faucets. You would be amazed how much you can upgrade your fixer upper merely by updating these small and inexpensive fixtures. After you deal with the smaller fixtures, you can move on to top home repairs that are more involved like appliance repairs.
Updating Your Cabinets
While installing new cabinets is one of the more expensive top home repairs, it is definitely worth it if you have room for it in your budget. If you do not have room in your budget, there is no need to worry. If your cabinets are old but still in good shape overall, you can simply apply a fresh coat of paint to your dinged up cabinets to spruce them up a bit. Painting your cabinets is another cheap but impactful method for increasing the visual appeal of your kitchen.
If you are going to be selling your fixer upper, you should know that the kitchen alone can often make or break a sale. Other renovations you can make to your kitchen include replacing old flooring and counters. Keep an eye out for granite offcuts which you can remodel into new counters for a fraction of the usual price. A brand new backsplash is an extremely effective way to update your kitchen. Even for a minor kitchen refurbishment, you could see as much as an 80 percent return on investment.
Ripping Out Old Carpet
Brand new carpet can make a room feel warm and cozy. On the other hand, dingy or tattered carpet can really drag down the appeal of a room. If you decide to go ahead with ripping out old carpeting, hardwood or laminate flooring would be the best options for replacement. If your budget is too tight, a paper bag or penny style flooring are two wonderfully creative options that look great and cost less.
Adding Curb Appeal
If you will be putting your fixer upper back on the market after you are finished with the renovations, curb appeal is paramount. It will not matter very much how nice the remodel looks on the inside of the house if the outside is in disarray. Be sure to clean up any dead plants or shrubbery, plant some new ones, and perhaps install some custom fencing around your yard.
It is recommended to choose flowers and shrubs that will bloom at different times of the year which will ensure that your yard will be colorful year-round. In terms of the front porch, opt for top home repairs such as installing new shutters and applying a fresh coat of paint to the porch. Lastly, replace the mailbox if need be and add some decorative numbers to display your address. If you are inexperienced with yard work, fencing contractors can help you achieve the beautiful look of a fenced in yard.
Updating The Exterior
Many fixer upper homes come with worn out siding or chipped paint. Replacing this old siding entirely or just painting over it will go a long way towards increasing your fixer upper's curb appeal. If your budget allows for it, stone or brick accents can be a nice touch. Garage door spring repair will ensure your home's facade looks flawless.
Splurging for new siding or applying a fresh coat of paint will make a huge impact on your home's exterior. Metal roofing is also a splurge that will greatly increase your home's curb appeal. Start by getting some metal roofing estimates from nearby contractors.
Many dock repair services also offer multiple repair services such as replacing roof materials and decking. If you happen to live on the water, where docks need extra attention in the winter, this is all the more essential.
Repainting The Ceilings
The ceiling is a feature that is often overlooked during a home remodel. In fact, many homeowners do not even realize just how dirty or grimy a ceiling can get. In addition, ceilings are often left white while the walls are painted with color. Applied to your ceiling, a fresh coat of paint can really liven up the entire room. Do not just paint your walls and neglect the ceiling entirely.
Replacing The Windows
Installing brand new windows is another one of the top home repairs that may be too luxurious for you to afford. However, they may become a necessity if your old windows become too drafty. In this case, you may have to spend the money to replace them. Windows are crucial for insulating your home and protecting it against the elements. In the long run, splurging on new windows will actually save you money by getting rid of those drafty openings that allow the hard-earned money you spend on heating and cooling to fly right out the window.
Updating The Heating and Cooling System
To help achieve a home that is heated and cooled efficiently, you will want to start with making sure you have an updated heating, ventilation, and air conditioning system. After that, the right air filters are just as impactful as the entire system. Air filters that have a Merv 11 rating are equipped with astro pleat technology to prevent dust and dirt from entering your HVAC system. Using quality air filters will extend the lifespan of your system significantly.
Considering that over 100 million Americans have plans to purchase a home in the next five years, buying a fixer upper is always a good investment. It is all about finishing the remodeling job once you start it and sticking it through to the end. Even if your fixer upper becomes overwhelming, years later you will likely look back and consider it one of the best decisions you have ever made. You may not be able to finish every repair yourself, so do not be afraid or embarrassed to hire a contractor for the job. This will help you stay sane during the renovation process and the increase in home equity will likely offset the cost of the contractor and then some.