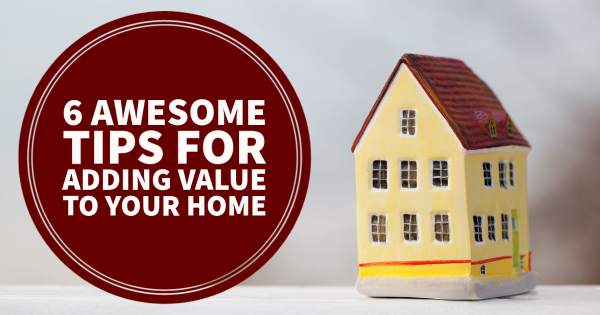 Happy New Year! We are celebrating this year's long-awaited stroke of midnight as much as the rest of the world. The garbage has been taken out and now there's a beautiful blank canvas ahead of us. Ah, January, you never looked so beautiful!
The first month of the year is always a time for pause and reflection, to consider ways to be better in the next 12 months. As you clear your mind and help yourself feel more grounded emotionally, it is also a good time to take a look at your physical surroundings. What would you think, looking at your house from an outsider's perspective? Does your house feel as welcoming and cared for as you would like it to, or are there areas that need some TLC?
If nothing else, it's always good to look ahead if you can — what would the current resale value be if you listed today? As it stands right now, home buying is expected to boom in the next five years. Up to 100 million Americans have made it a personal goal. Even if you have no plans to sell your house in the immediate future, adding upgrades here and there will automatically add more value to it. In the spirit of fresh beginnings and a blank canvas, try some or all of these upgrades that can add serious value to your home.
1. Update Your Garage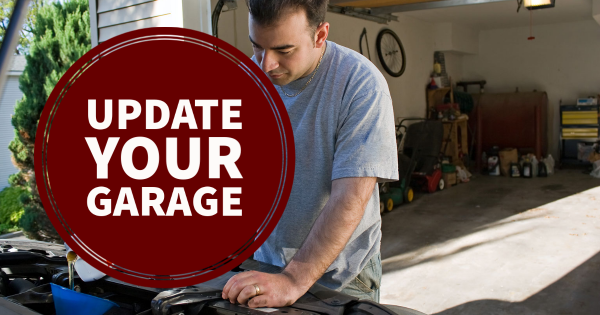 Some homebuyers consider a garage just an enclosed slab of concrete: A place to park the car and store tools, nothing else. To other homebuyers, a garage is a necessity. These are the sorts of people that need the additional space, a place to take care of all of the hands-on activities in life. These are the small business owners, the mechanics, the woodworkers — and garages are as much of a necessity as any other room inside of the house.
Consider ways to make your existing garage more attractive to these kinds of homebuyers. Some simple, yet effective upgrades include:
Installing automatic overhead doors in place of the manual variety. As simple as that might seem, think of all the rainy days that you needed to get out of your car to open the garage door. There is a reason that humankind has developed these simple technologies over time: For convenience's sake! Do yourself and future homebuyers a favor by making the switch.
Insulate and finish the drywall inside the garage. This keeps the space much warmer in the colder months and cooler in the warmer months, making it especially comfortable for people who spend a solid chunk of their time in the garage.
Add in better lighting. A well-lit garage is a safe garage, whether you're working with tools or parking the car. Brighter overhead lights and LED bulbs make a tremendous difference and help the room to feel less cavernous.
Even if you don't spend massive amounts of time out there, your garage is a valuable part of the house. Completing small projects here and there makes it feel more like a room than just a block of cold, dimly-lit concrete and drywall.
2. Use Smart Home Tech for a Safer House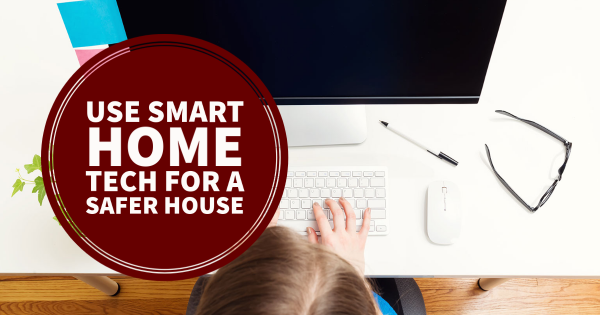 Little by little, the nights are getting shorter, which means that the sun is out for just a tiny bit longer every day. Hooray! However, we are still dealing with early sunsets and full dark by six o'clock in most places, which means that break-ins and robberies are still a danger at this time of the year.
It's a good idea to install security upgrades no matter who lives at your house, but smart technology is an appealing selling point for prospective buyers. One convenient security measure that is growing in popularity is a door buzzer system or doorbell camera. Think of apps like Arlo and Ring. Using your phone, these will notify you anytime that someone is at your door. They will automatically catch the person on camera and allow you to speak to them through your phone, meaning that you don't need to have any direct contact with strangers.
Keyless entry door lock installation is another smart upgrade that can help you and potential buyers feel safer inside the house. Keyless locks connect to your phone via Bluetooth, allowing you to lock or unlock your doors through your phone. You can apply a different set of codes for each member of the house, tracking who has been in and out based on which code is used. Plus, smart lock codes can easily be changed, which means that future buyers won't need to worry about who might have a key to the house.
Feeling safe inside your house should be a number one priority. Whether it's you who lives there with your family or another buyer in the future, taking measures to protect your house and the people inside of it is never wasted money. Plus. smart home tech can be a great listing detail should you plan on selling one day.
3. Build a Proverbial Moat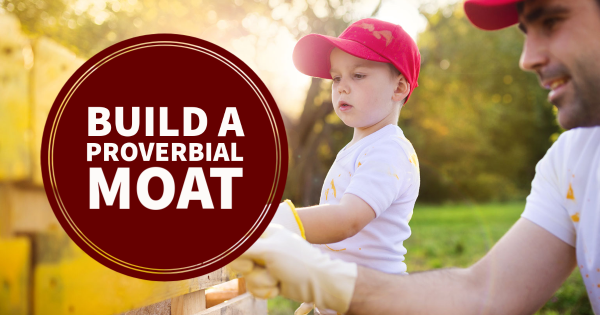 The King and Queen built a moat around their castle to protect them from danger and to keep the black knight at bay. Take a leaf out of that fairy tale and guard the perimeter of your house by building the ground version of a moat: A good old-fashioned fence.
Beyond keeping out the black knight, fencing is a practical and valuable place to spend money. It instantly adds value to your house because it really is a safety feature. Families with kids and furry kids will feel better about letting everyone play outside. There is an added layer of privacy that prevents everybody from peeking in and seeing what you're up to. Fences also clearly mark the property line and show what land belongs to you.
Fencing already in place is a fantastic selling point for anybody looking to purchase a home. Quality fencing saves prospective buyers a boatload of money, but you can reap the benefits at the same time. Keep your castle safe by building a fence, and add value at the same time when you sell it to the next royal.
4. Lower Your Energy Bill With Green Technology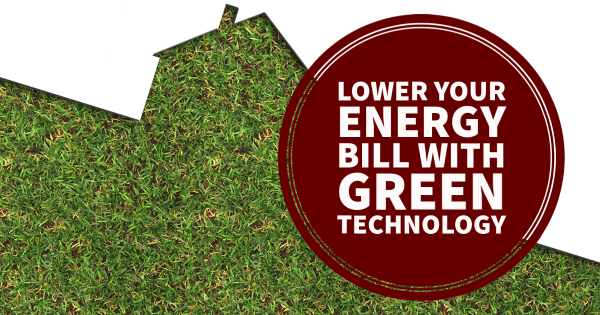 Who doesn't love helping Mother Earth when they can? Green technology is a fantastic way to show some love to the planet, but also to lower your monthly energy bill at the same time. Green tech for your house used to be super expensive, but you can find Earth-friendly upgrades for much cheaper (and more effectively!) than they used to be.
If you live in a place that is sunny most of the time you might consider installing solar panels. Solar energy saves you money the moment that you start using it, powering items in your house by converting the sun's energy into electricity. Panels can be big or small: Some people have entire rooftops covered in solar panels, others install a few small ones on posts or other tricky locations outside. You can find deals on solar panels if you do the research — and homebuyers love seeing that they won't have an energy bill when touring your house one day.
A less dramatic, but easy way to make your house a little more energy-efficient is to update your interior lighting. Old light fixtures from another decade are made with old technology that does Mother Nature no favors. Start replacing your interior fixtures with something more up-to-date, but use LED bulbs when you install them. LEDs have a lifespan that is 25 times longer than a standard light bulb, plus they are crazy bright and light up a whole room. Shadowy rooms are sad and depressing. Chase the shadows away and be Earth-friendly at the same time with new interior lighting.
Going green doesn't have to be expensive and over-the-top. Small replacements here and there help you to lower your energy bill while reducing your carbon footprint — plus they are little nuggets that add value to the house in the long-term.
5. Make Your Basement Another Floor
Did you know that, in some states, a finished basement can count towards your home's overall square footage? Another reason to celebrate! However, your basement must meet certain criteria to count as another floor:
There must be a heat source.
You need to have a way to quickly escape in case of an emergency.
The basement must be in the same livable condition as the rest of the house (which means that it's finished, has tall enough ceilings, etc).
It takes serious time, money, and effort to complete a basement, especially when you consider all that could go wrong with a full basement remodel. But there's something to be said about doing it and doing it properly, especially for people who are looking for a move-in ready house. In the new subdivision across the street, buyers can simply ask their developer to add in a finished basement in their plans without needing to take a second look at your listing.
When the time comes to sell your house, you don't need to try and compete with big-name developers selling cookie-cutter houses with in-house real estate loans and agents. With another floor added in, your listing buyers won't need to find something custom built. Your house will already be move-in ready and raring for them to bring their stuff over.
6. Slap Some Color on Those Walls
The most inexpensive, yet arguably the most effective way to transform a room? Paint. A single can of paint can cover up to 400 square feet, which is a decent-sized room and possibly some extra. A brightly-colored room can add some cheer to an otherwise drab space, and when you live in your house, it's a great way to love it a little more. When it comes time to sell, however, remember that not everybody might have the same taste as you do. Neutral, easy-to-cover colors work best in a house you're trying to sell.
Basic prep work is what takes the longest, not the actual paint job itself. For the best possible results, remember to follow the below tips:
Dust off your walls and wipe them down with soap and water. Paint doesn't like dust, and an undusted surface will cause it to gunk and spread unevenly and otherwise just look terrible.
Remove switch plate covers and toss them in the sink with hot, soapy water. Save the screws in a bowl or baggie.
Tape off all areas like molding and windows. Toss a drop cloth onto the floor for protection and ensure that all furniture and artwork has been moved.
If you've got a tight budget, ask your local paint store where their mistint bin is. Ever wondered what happens to the paint that customers return? This is where it goes to die. The mistint bin is always a grab bag of different shades, colors, and quantities, and it changes every day. Check out what's available and you might be able to score some great paint in a neutral color for cheap.
As you transform your state of mind through your surroundings, always have a place in your mind that is looking to the future. Yes, you live happily in your house right now, but if you needed to sell it in a hurry, how prepared would it be to list? Would you be able to get top dollar, or would you take a loss when you ended up selling?
Updating and upgrading your house well before you decide to sell is a great way for you to enjoy more of what it has to offer — but also a way for buyers to see what you have to show them when you put it on the market. Making changes to your house is not something that you should do in a panic so that you can sell quicker. The home wasn't built in a day. Make slow updates here and there as time and money allow. This doesn't only give you more opportunities to love your house, but it also will look so much better on a flyer one day.