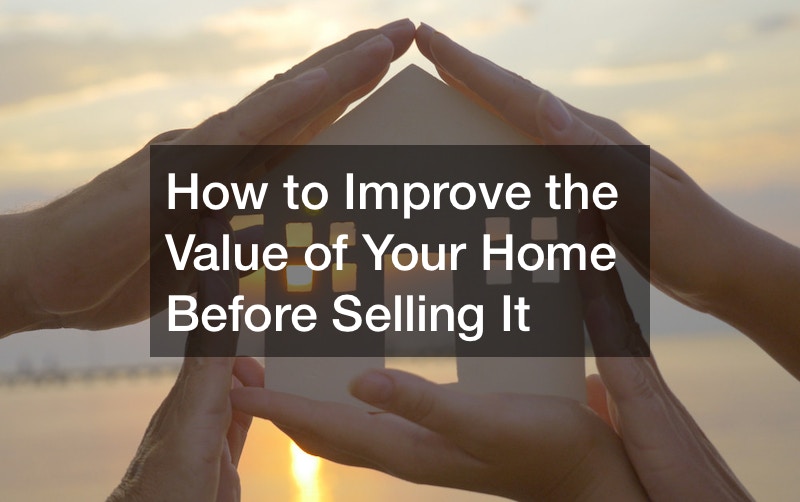 Owning a home is more than just an emotional undertaking. It's also a financial commitment that can pay off as you accumulate equity in your home and increase your property's value. The neighborhood in which your home is located, the housing demand in the area, and the state of the economy all have an impact on how much your property's value will increase. However, homeowners can also have an ongoing impact on their home's value by making improvements and modifications that enhance its appeal and justify a higher asking price. To make sure you make the most out of your sale, here's how to improve the value of your home before moving.
1. Repair or Replace Your Roof
The exterior of your property is the first thing a potential buyer notices, and your roof plays a key role in that first impression. Most buyers may not be turned off by a few damaged shingles, but if the entire roof is in bad shape, you should repair or replace it before listing your home. Your roof protects you and your possessions from the elements, but can a new roof raise the value of your house? The brief answer is yes.
A new roof installed by a reputable roofing contractor will not only improve the value of your home before moving, but it will also help you attract serious buyers and give you an edge during negotiations. Curb appeal plays a key role in home listings, and repairing or replacing your roof is a great way of enhancing it. Over time, older roofs lose color due to sun damage, with shingles or tiles warped or cracked.
This can make your house look outdated and run-down. Replacing your roof gives your property a fresh look and demonstrates your willingness to spend on home maintenance.
A new roof installed by a professional roofing service gives potential buyers the impression that the rest of your home is well-maintained as well.
A new roof can also get you an appraisal bump. When determining the listing price for your home, appraisals are often used as the starting point to validate the asking price. If you want to involve banks in the sale of your property, they may set a price cap based on the appraiser's estimated value for your home. A new roof can increase your home's appraisal value by $15,000, raising your asking price range.
2. Remove Unsightly Trees
Most homeowners don't consider having trees removed until they start to negatively impact their property. However, tree removal can improve the value of your home before moving. It's better to have a tree removed before it starts causing any problems. One reason you should consider having some of the trees in your home removed is that they're unsightly and detract from your property's curb appeal. Removing such trees will improve your home's value.
Another reason you should consider contacting tree removal companies is that tree removal can free up space for new additions to your property. For instance, if you wanted to improve your yard by adding a pool, a basketball or tennis court, or an outdoor seating area and a fire pit, but a large tree stands right in the middle, you'll need to remove the tree for additional space.
Removing trees from your property may also offer an opportunity to improve the view from your home. By removing trees that are obscuring your windows' views, you can increase the value and livability of your home. However, consider the fact that some trees offer valuable privacy. Although it may not be the first advantage that comes to mind, occasionally removing a tree can safeguard the rest of the trees on your property. For example, if a tree is infected or has a pest problem, have it removed to prevent the rest of the trees from getting infected. Invite a tree service company to come and inspect your property and recommend the best course of action if you think your trees may be infected by bacteria.
3. Install a Fence
Adding a fence to your home can improve the value of your home before moving. A fence offers several benefits. It promotes privacy and keeps wild animals out of your yard, and your children and pets safe while in the yard. But did you know a fence could increase your home's value should you decide to sell? Privacy fences range from four to nine feet in height. Depending on various factors such as maintenance and equipment, the privacy they offer can boost the marketability of your home.
While a fence could have financial significance for you, it may not be apparent to the buyer. The majority of homeowners prioritize privacy in their backyard, and a beautiful fence offers the perfect solution. When buying a property, homeowners with dogs or kids are likely to have a fence as a prerequisite. They might be hesitant to buy your home if it doesn't have one. They prefer paying more for a property with a fence rather than spending their money on doing it themselves.
For the buyer, a property with a fence cuts the amount of time they stay without a fence, and they may believe it would cost more to acquire the fence later. Get quotes from multiple fence installation companies to see how much it will cost you compared to the value it adds.
4. Improve Your Landscape
First impressions matter when it comes to selling your home, and when a buyer views your property for the first time, the landscaping's upkeep and curb appeal are the first signs of how well-maintained it has been. A home with a visually appealing landscape has a significant advantage in terms of price over a home without one. Depending on the style of landscaping and the home's initial value, this varies from 5.5% to 12.7%, according to SFGATE, which equates to an increase in value of $16,500 to $38,100 for a $300,000 property.
However, landscaping involves more than just planting a few flowers and plants. Buyers prioritize a manicured design for their landscape requirements. Following closely behind is plant maturity and size. The variety of plants used in landscape design isn't as important, but it's still worth considering.
Lack of a well-thought-out strategy is among the biggest landscaping mistakes homeowners make. They plant a tree, add some flowerbeds a few years later, and then perhaps plant some shrubs and another tree. Piecemeal landscaping presents a haphazard appearance that repels potential buyers. Before you start landscaping, make a plan.
Your home's value can increase by tens of thousands of dollars via landscaping. It's among the few home improvement projects that not only instantly add value but also appreciate value over time. Improving your landscape can improve the value of your home before moving. For the best results, make use of professional landscaping services.
5. Repair Your HVAC Systems
Repairing your HVAC systems will improve the value of your home before moving. Potential buyers are put off by the idea of having to incur a huge expense soon after moving into the home. Once you accept a buyer's offer, there are often several contingencies before the sale is finalized. These typically include audits, appraisals, and funding. If your home's HVAC system is outdated or in need of repair, anticipate a buyer requesting you to make the necessary repairs. If you're selling your home during a busy season of the year, it can take some time to have heating repairs done or to have a new HVAC system installed. Taking care of this problem before putting your home on the market will result in fewer repair requests.
Repairing your HVAC system might delay finalizing the transaction if your HVAC system needs work. This is also the case if you're waiting for the installation of replacement equipment as your HVAC equipment might not be in stock with some manufacturers. Plan for any necessary work in advance if your home calls for specialized equipment or if you have a certain type or model in mind. Before putting your home on the market, have the equipment repaired or replaced. By doing this, there will be one less potential issue during closing.
6. Ensure Your Home's Pipes Are Working Properly
If your home's pipes were installed over 60 years ago, you should consider repiping. Having new pipes installed will significantly increase your home's resale value for several key reasons. In contrast to cosmetic upgrades, installing new pipes is a long-lasting improvement that will protect the rest of your home from potential damage, and benefit the health of occupants.
The fact that repiping significantly lowers the risk of medical issues such as lead or cadmium poisoning will be appreciated by knowledgeable homebuyers. New pipes also improve the reliability of water fixtures and eliminate the need for costly repair projects. This significantly raises a home's value.
If you don't repair or replace outdated, failing pipes, there's a high chance that your pipes might start leaking before you sell the property. This can lead to stains on walls, ceilings, and floors, which can significantly lower your home's resale value and discourage potential buyers from making offers.
Admittedly, new pipes aren't as visible as new windows or siding. Potential buyers may assume the current pipes are safe. However, a home inspection is likely to point out outdated plumbing that's prone to leaks or contains dangerous substances. Aging pipes can become apparent even before an inspection if a prospective buyer tastes rusty water, spots stains on fixtures, or notices plumbing noises.
Another obvious sign of piping that needs to be replaced soon is low water pressure. In conclusion, installing new pipes through reputable plumbing services does raise a home's value. Your home's current and future inhabitants will benefit from new pipes, making repiping a wise investment. Additionally, it protects valuable construction materials from water damage. Ensuring your home's pipes are working properly will improve the value of your home before moving.
7. Install New Hardwood Flooring
When trying to sell your house, flooring can make all the difference. New, easy-to-maintain flooring is appealing to buyers. If they don't like the flooring, your chances of receiving a competitive offer will significantly diminish. Therefore, you must ensure that the flooring you choose adds the most value to your home.
Hardwood floors will certainly make for a beautiful addition to your home. For a while now, hardwoods have dominated the flooring market in the United States. They rank among the most popular types of flooring today and are one of the easiest floors to maintain. If you accidentally spill something on hardwood floors, all you need to do is mop it. Scratching is the only thing you should be cautious about.
Hardwood floors are also durable. This makes them a great fit for high-traffic areas like kitchens and foyers. Installing engineered hardwood flooring will undoubtedly improve the value of your home before moving more than old tile, linoleum, or carpet. However, how much will largely depend on the initial value of the home and the type of hardwood flooring you install.
8. Seal Your Driveway
Sealing an asphalt driveway offers several benefits. The most obvious one is a clean, attractive surface that will increase a property's perceived worth. Sealing your driveway also offers added UV-ray protection. Apart from causing sunburns, UV rays have the power to bleach colors from surfaces and destroy your driveway. By sealing your driveway, you'll not only restore its color but also stop degradation brought on by the sun's damaging rays. In the same way that sunscreen shields our skin from sun damage, adding a sealer shield the pavement's composition from surface deterioration and cracking.
Sealing your driveway also makes it easy to clean. If you've ever attempted to wash concrete, brick, or natural stone, you know how difficult it can be. Dirt and debris will adhere to every bump and groove. If you look closely, you'll notice tiny pore-like holes on the surface. Sealing your driveway will fill those holes, leaving dirt with no place to hide. Once sealed, even a little rain will wash your driveway clean. The benefits of sealing your driveway will improve the value of your home before moving. Get multiple quotes from different asphalt driveway sealing companies to get the best services.
After taking good care of your home and seeing your equity grow, selling it offers an opportunity to make some money. Your home's prospective sales price and earning potential can be pushed to the upper limit with a few easy, inexpensive improvements. Use these tips to improve the value of your home before moving.