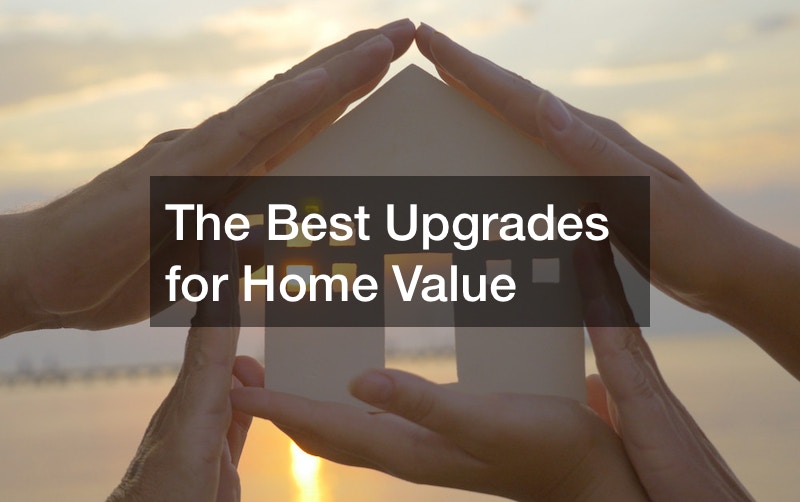 Your home can sell even without renovations. The procedure won't be that easy, though. In fact, you might be forced to accept lower offers than you would have if you had done the maintenance and upgrades before listing on the market. Worse still, your home may fail to attract potential buyers. As a result, it may stay on the market for longer than expected.
On the flip side, making house upgrades before selling can increase interest from buyers and guarantee sales. The good news is that value will increase and help you recover some of the renovation costs. According to the Remodelling Magazine's Cost vs. Value report, a minor kitchen remodeling can rake in up to 83% return on investment on the house's value.
While considering home upgrades, the good news is that you don't have to dig deep into your pockets. You can generally concentrate on low-cost cosmetic updates that improve curb appeal and modernize the areas that draw in the most purchasers.
So, what are the best upgrades for home value? Let's find out.
Best Upgrades for Home Value
1. Ensure Your Heating and Cooling System Is Functional
The ease and comfort of living are two factors prospective homebuyers consider when evaluating a home's worth. Most potential homebuyers are interested in how effectively and affordably a home can provide for its occupants' heating and cooling requirements. If your HVAC system is in poor condition, it may affect how the potential buyers value your house. According to Zillow Analysis, homes with functioning heating and cooling systems sell at 2.5% more than homes without central AC.
If your heating and cooling system is defective, you have no option but to lower the price. Otherwise, a potential buyer may back out of a deal if you can't reduce your asking price. This means you might have to wait even longer to sell your home.
Here are the possible signs that heating and cooling systems need maintenance or repair.
Warm air comes through the vents when the thermostat is switched to cooling mode. It could indicate compressor issues.
When the airflow in the house is poor.
If the air conditioner makes loud, abrupt, or strange noises.
If the refrigerant is leaking water.
Repairing your HVAC system is one of the best upgrades for home value. If you notice defects with your HVAC system, remember to contact an AC replacement service to address the cooling problems. You can also contact a furnace installer if there are problems with the heating system.
2. Consider Landscaping Upgrades
Landscaping features are among the best upgrades for home value and are crucial to selling a house. An impressive landscape makes potential buyers want to explore and see what's inside your home. Put differently, the landscape design impacts whether they'll make the purchase.
Curb appeal is what prospective buyers see first. Remember, the first impression is key. It gives prospective buyers a general idea of what to anticipate from the house's interior and structural foundation. A study conducted by the US Department of Forest Service indicates that homes with trees can sell for 3.5% to 4.5% more than homes without them.
So, what are the landscape features that can appreciate the value of your home? Here are three tips to help you.
1. Make Your Yard Greener
A beautiful lawn and lush yard make the ideal first impression. Installing new landscaping designs and planting trees are affordable enhancements that will yield quick and significant returns. A recent real estate study shows a lovely, well-kept lawn can increase a home's worth by up to $100,000.
In addition to making the property appear and feel cooler – essential in a warm climate. Also, green grass contrasts the house's color and increases the home's street appeal. The practical way of ensuring your yard stays green is by watering the trees and the grass and mulching for healthier growth.
2. Install a Convenient Outdoor Space or an Outdoor Fire Pit
Homebuyers are drawn to functional outdoor living spaces, particularly in warmer regions. Similarly, outdoor fire pits are ideal for warming up cool Victorian nights, entertaining, and cooking. Potential buyers will undoubtedly be impressed by these outside improvements to your home.
To capture the attention of purchasers, consider including an outside kitchen, some cozy day couches, and a dining area. In addition, you can buy or build an outdoor fire pit depending on your budget and yard space. Moreover, patios/decks are convenient outdoor spaces and among the top-ranking best home value upgrades. Incorporating these elements into your yard will significantly boost the value of your home. According to Home Light's Q2 Top Agent Insights survey, installing a patio increases the average value of a house to $3,563, representing a 9% ROI.
3. Check the Quality of Your Shingles
The roof is typically the primary insulator of your home. When in good condition, the roof ensures your house is energy-efficient. Also, the roof keeps your house safe and shields your family from the weather elements. A deteriorating roof will scare away potential buyers even if a property has a lovely foundation and good bones.
Therefore, the condition of its roof is one of the key elements determining your home's total worth. If your roof has issues, installing a new roof or reroofing is one of the best upgrades for home value. You probably think roof replacement is an expense. After all, you will incur some costs. Well, this is not entirely true. A Remodelling Impact survey by the national association of realtors shows that roof replacement can increase the value of a home by 7%. Journal of light construction (JLC) puts the return on investment of a new roof at 60%.
You may want to consider a metal roof while replacing your old roof with a new one. Metal roofs are lightweight, energy-efficient, and long-lasting, which is typical for homeowners. They also come in various hues, making them more enticing to potential house buyers. For effective installation, consider hiring a metal roof contracting service.
4. Consider Adding a Shed
Does your home have a shed? A shed is one of the best upgrades for home value and can help raise your asking price when reselling your home. According to some experts, a new shed might increase the cost of your house by 1-2%, which is better than none, right? If you aren't planning to put your home on the market soon, you can enjoy the improved curb appeal.
Your new shed might end up being the key selling point of your home. It can serve as a modest guest room, a meditation room, or a private office. The shed can also provide the storage space potential homeowners may require during a hectic moving process. It might also be useful for storing gardening equipment and supplies. Due to its ability to serve numerous uses, the shed is a valuable addition to your home that will ramp up your home value.
According to Home advisors, the estimation for building a shed of a playhouse is between $200 to $30,000. The costs depend on your materials and the size of your shed. Building a shed yourself is also possible. However, hiring outdoor shed builders with the skills to build a functional and effective shed is ideal.
5. Redo Your Cabinets
One of the primary concerns of many homeowners is storage space, which explains why many property buyers are more attracted to impressive cabinets. If you are looking for the best upgrades for home value, consider cabinet remodeling. According to NerdWallet, smaller kitchen modifications can bring in 80% ROI.
Cabinet renovation is a surefire technique to enhance the appearance of cabinets and modernize the kitchen radically – whether you opt to paint, replace their hardware, or completely replace them. However, cabinet remodeling prices vary depending on your project's size, scope, and quality.
When considering upgrading your cabinets, take note of the metal finishes on your plumbing fixtures, lighting, and appliances. Ensure you choose hardware that complements the finishes. Similarly, the finish must work nicely with other elements. Matching the metal finishes can enhance your kitchen's aesthetic and appeal to potential buyers.
If you want your home to sell for a higher price, choose light top cabinetry and dark lower cabinetry when repainting your kitchen cabinets. Zillow's 2018 research posits that homes with tuxedo cabinets can sell for an additional $1,500.
So, the question is; are your kitchen cabinets in perfect shape to earn these incredible returns? You should contact a custom cabinet maker to give your cabinet a new touch. Rest assured, you will recoup part or the whole refurnishing cost when you sell your home.
6. Repair Your Fence
If you haven't thought about installing a fence, or if your fence is in bad shape, you are missing out on a lot. Despite its simplicity, a fence serves various purposes. A good fence enhances the safety, privacy, and security of your property. In addition, it can enhance your home's general curb appeal and make it appear cleaner and more valuable. It's definitely one of the best upgrades for home value.
Remember, a fence is part of the landscaping project. Home Light's Q2 survey shows homes with perfect landscaping sold at up to 10% more than other homes. Hence, this statistic makes it ideal for homeowners to consider fencing before listing the house on the market.
You should definitely consider repairing your fence to ensure it is in good shape. Many potential buyers value privacy and security. Fencing is a chief signal that the property's overall security is top-notch, particularly if potential buyers have children or pets. If your fence is in bad shape, don't hesitate to hire a fence company to fix it before listing your house.
7. Check Your Gutter for Clogs
Gutters also boost the curb appeal, which significantly impacts potential buyers' impressions. Put differently, you risk reducing your home's appraisal value if you have dysfunctional gutters. Therefore, one of the best upgrades for home value is routine maintenance and repair on broken and clogged gutters.
A clogged gutter can hinder the effective water flow from your property, leading to a lot of structural damage. In addition, clogged gutters can lead to flooding in the basement, structural problems, mold growth, and foundation damage. Besides causing damage to walls and ceilings, clogged gutters can result in interior water leaks. Moreover, ice dams can force snow to melt under your shingles during the winter, leading to potential roof damage.
Lack of functional gutters or clogged gutters can make a prospective buyer deduct the cost of installing a new system from your house offer. Therefore, installing a gutter shield and preventing dirt and debris that may clog the gutter is prudent.
8. Empty Your Septic Tank
One of the first things a buyer will ask for is a thorough septic system inspection. Before selling your property, confirming that your septic tank is operating well is crucial. Buyers may demand you to cut the repair costs on your asking price, meaning selling the house at a lower value. You also risk expensive litigation from the buyers if you sell them a house with a dysfunctional septic tank.
How do you ensure the septic tank is ready for a home sale, you ask? You only need to pump a septic system once after every three to five years. Some states require that you clean the system before selling a home. Therefore, to guarantee you are selling your house at the best rate, emptying your septic tank before the home sale is among the best upgrades for the home value you must consider. Hire a qualified septic pumping contractor to ensure your system is running properly.
9. Check the House for Rodents
Surprisingly, your property could be home to rats. Most prospective buyers won't even look at your house twice if they notice signs of pest infestation. The presence of rodents can be a health risk to people suffering from autoimmune diseases. According to recent National Library of Medicine studies, homes with signs of recent or past infestations sell for at least 9% less.
If you reside in the property, you might be convinced your home is pest free. But it's better to be sure to avoid late surprises. Bring in a professional local pest removal service to examine whether your home has rodents. A pest inspection can help prevent diseases, such as hantavirus, leptospirosis, salmonellosis, and lymphocytic choriomeningitis spread by rodents.
Final Word
Selling a house can be streamless and straightforward if you consider these best upgrades for home value. If you must renovate your house, ensure you do due diligence to choose a budget-friendly project with a significant investment return. Boosting the value of your home doesn't have to be complicated. Make your yard greener, repair your fence, and ensure all systems are functional. Generally, ensure everything is in good shape. This guide will get you started. The ball is now in your court; make your home appealing.