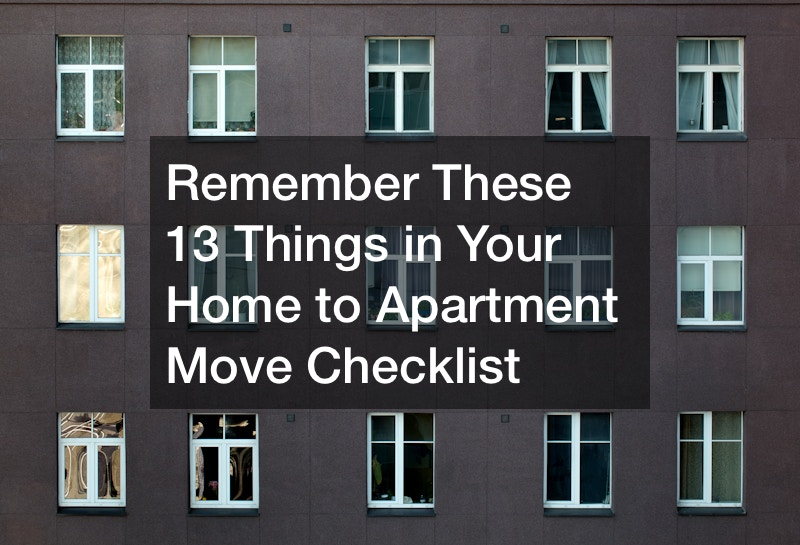 Moving can be an adventure of its own, filled with excitement, stress, and a dash of chaos. But don't let that make your moving experience harder than it should be. Whether you're upgrading from a cozy home to a fabulous apartment or going from a student housing rental to an apartment of your own, we've got your back. Welcome to the ultimate home to apartment move checklist—a useful guide to keep you on track, reminding you of those oh-so-important things that can easily slip your mind amidst the flurry of bubble wrap, cardboard boxes, and enthusiastic movers.
Let's dive right into this moving extravaganza, shall we?
1. Assess Your Needs and Space
First on our apartment move checklist, we discuss the importance of understanding your own needs and the space you'll have. You need to size up the available space in your shiny new apartment. Whip out that measuring tape and get ready to bust some moves!
You want to make sure all your furniture and precious possessions can boogie comfortably in your new digs. So, shimmy around and consider the layout. Which items will groove perfectly and which ones might need to sit this one out? Identify those must-have essentials and sentimental pieces that deserve a front-row seat in your new pad. And hey, get ready to say farewell to those items that just don't bring the party vibes or can't get down with your new living arrangement.
Now, let's do the ultimate measurement mambo! Bust out your measuring tape and jive into action. Get those accurate measurements of your new apartment's rooms, doorways, and hallways. This way, you'll know if your furniture can strut its stuff and if you need to break out some moves and disassemble larger pieces for easier transport and make things less complicated for your moving company.
2. Declutter and Downsize
Take a tour through every nook and cranny of your humble abode and categorize your treasures like a pro: the keepers, the sell/donate-worthy goodies, and the ones that just gotta go. Get ready to unleash your inner decluttering warrior! And hey, when you're making those tough choices, envision the cozy layout of your new pad. Remember, downsizing equals a seriously sleek and organized life, with way less stuff to trip over. Let's turn your new space into a spacious oasis where relaxation and tranquility reign supreme! Once you've decluttered and downsized, you can reach out to a local moving service and find out about costs and services.
3. Plan and Organize
The next point of discussion for our apartment move checklist revolves around planning and organizing. It's time to whip up an epic plan that covers all the bases. Grab your trusty pen and paper because you're making a killer checklist (within a list, yes!).
First up, make sure those utility companies know you're bouncing to a new pad. Next, channel your inner address-change ninja and update all the important peeps. Now, let's dive into the thrilling world of packing. Start early and begin with the non-essentials. Pack them up like a boss and don't forget to slap a neat label on each box, specifying which room they belong to. Trust me, this little hack will save you some major unpacking headaches later on.
4. Utilize Storage Solutions
In the world of apartment living, space is the name of the game. Let's dive into the exciting challenge of making the most of your limited storage options. Start by channeling your inner space detective and assessing every nook and cranny of your brand-new apartment. Time to strategize the ultimate furniture and belongings layout. Think smart and consider the power of multi-functional furniture and cabinets or storage wizardry to unlock hidden space potential.
Oh, and let's not forget the magic of organizational tools. From shelves that reach for the stars to under-bed storage containers and stackable bins that are pure stacking genius, these little wonders will help you make every inch count. Say goodbye to clutter chaos and hello to a tidy and accessible paradise! And hey, if you have some beloved items that won't fit in your new digs but are still close to your heart, consider renting a cozy storage unit to keep them safe and sound, just a stone's throw away.
5. Consider Furniture Options
Some of your beloved furniture might not make the cut in your new space. No worries though, it's the perfect chance to give those oversized pieces a chance to shine somewhere new. How? Sell them like a boss or spread love by donating them to folks who'll appreciate their grandeur.
But there's a solution. Say hello to the stars of the apartment-friendly furniture world! Think smaller, more compact versions of your faves. Opt for the superhero of versatility—furniture that wears multiple hats like a boss. Picture this: a sofa that magically transforms into a comfy bed for your overnight guests or a coffee table with secret storage compartments that hide all your apartment essentials. With these magical pieces, you'll have a space that's cozy, functional, and totally you. So, let's wave goodbye to oversized woes and say hello to the wonder of apartment-friendly furniture that'll make your new place feel like home sweet home.
6. Create Zones
The next discussion on our apartment move checklist asks you to think creatively. Picture this: you're the master of your domain, and you're about to transform your space into a perfectly organized wonderland. Let's start with the basics. We're talking about sleeping, working, dining, and leisure—those four magical zones that'll make your apartment shine.
Now, here's where the fun begins. Time to get creative with area rugs that define your stylish sleeping nook, or maybe throw in a funky room divider that adds a touch of whimsy while separating your work zone from the rest of the world. Oh, and let's not forget the strategic furniture placement! Arrange your beloved pieces like puzzle pieces to clearly mark the boundaries of each zone.
You're creating an apartment that's tailored to your unique needs, my friend! By demarcating these zones, you'll give your space an airy, spacious vibe that's oh-so-organized. So grab those funky rugs and quirky dividers, and embark on this playful journey to a zoned-out apartment paradise!
7. Prioritize Comfort and Style
Imagine sinking into a cloud-like sofa that embraces you like a warm hug. And those soft, gentle lights create a cozy ambiance perfect for late-night reading or Netflix binging. Add an AC unit, check out local mattresses providers with the best options, and even consider getting water softeners to keep your water safe and tasty.
But hey, we can't forget the secret ingredient: personalization! Let your style shine through with decor and accessories that scream 'you' from every nook and cranny. Funky wall art, vibrant throw pillows, or that quirky collection of knick-knacks that make you smile. This is your chance to create a space that's uniquely yours, a place where you can kick back, relax, and truly feel at home.
8. Establish a Routine
Moving to a shiny new apartment means shaking things up and diving headfirst into a whole new routine. It's time to unleash your inner explorer and embark on a neighborhood adventure! Get out there and discover the hidden gems, local hangouts, and awesome amenities that make your new hood oh-so-special. Oh, and let's not forget about that fabulous routine of yours!
It's time to shake it up and find that perfect groove that aligns with your apartment life. Embrace the change and find joy in the little things: the cozy corners, the convenient perks, and all those amazing opportunities that come with living in a smaller space. It's like a treasure hunt of delight around every corner! So get ready to unlock a whole new world of apartment living awesomeness. Embrace the change, find your rhythm, and let the joy of your new lifestyle fill your heart.
9. Enjoy the Benefits
Your new apartment brings a wave of relief, leaving you with more time to kick back and enjoy life. And let's not forget the vibrant community waiting to welcome you with open arms! Get ready to meet new friends, discover awesome neighbors, and be a part of something truly special. But here's the real magic: a simpler, more intentional lifestyle. Embrace it like a boss! Picture yourself shedding the unnecessary, focusing on what truly matters, and living with a newfound sense of freedom and purpose. It's like stepping into a world where less is truly more.
So get ready to embrace that minimalist mindset. Trust me, it's a journey that'll bring you a whole lot of fulfillment and satisfaction. Embrace the advantages, soak up the positive vibes, and get ready to rock this simpler, more intentional way of life. Your apartment is about to become the epicenter of a well-lived life!
10. Prioritize Essential Items
Another important entry on this apartment move checklist is all about making sure you have all the most important items ready for your big move. First up, toiletries keep you feeling fabulous and clean. Grab your toothbrush, favorite shampoo, and all those bathroom essentials that make you shine like a superstar. Next, let's tackle the bedroom. Pack up those soft sheets, cozy blankets, and pillows that give you the sweetest dreams. We can't forget the kitchen, where all the magic happens. Essentials like plates, utensils, pots, and pans will keep you fueled with deliciousness. Lastly, don't forget those snazzy outfits that make you feel like a fashion icon.
11. Change of Address
Make sure everyone knows where to find you in your shiny new abode. Let's start with the basics. Reach out to the post office, banks, utilities, and insurance companies and give 'em the heads up about your change of address. We're talking about a superhero-level notification spree! Oh, and here's the secret weapon: mail redirection! Activate it like a boss to ensure those important documents and oh-so-precious correspondence find their way to your new doorstep. Make that list, check it twice, and let the institutions and service providers know where you've landed. Get ready to receive all those important goodies and stay connected in your brand new home.
12. Community Living
For this entry into the apartment move checklist, let's talk about shared amenities. Get ready to dive into a world of swimming pools, fitness centers, and maybe even a snazzy clubhouse where you can hang out with your cool neighbors. Oh, the social opportunities are endless! Speaking of neighbors, get ready to make new pals, attend community events, and discover a whole community of awesome people to hang out with.
Also, say goodbye to those pesky maintenance tasks because the convenience train is pulling into the station. Maintenance services have got your back, so no more worries about things like trash pickup! They'll handle all those pesky repairs and upkeep, leaving you with more time to do the things you love.
Now, before you get too carried away, remember to skim through the community guidelines and rules. You need to keep things harmonious and flowing smoothly, so familiarize yourself with the dos and don'ts to maintain that blissful living environment.
13. Budgeting
When moving from a house to an apartment, you need to budget properly to assure you're prepared for whatever's happening. Budgeting may be at the lower end of our apartment move checklist, but it's still very important. Take everything that's been discussed here and use what you've learned to plan a realistic and good budget. If you're not the one moving but are instead helping an older family member to prepare for checking out the best senior living communities, you can still use all the advice shared here!
And there you have it! An apartment move checklist that will help you to conquer the land of boxes, navigate the treacherous path of furniture assembly, and emerge triumphant in your new apartment haven. As you kick off your shoes and settle into your cozy abode, take a moment to pat yourself on the back (go ahead, you deserve it!). Remember, moving may be a whirlwind of activity, but it's also an opportunity for new beginnings, fresh starts, and endless possibilities. So, as you unpack your belongings and create your own unique space, let your playful spirit guide you. Embrace the quirks, find the hidden nooks, and add a sprinkle of your personal magic to every corner.