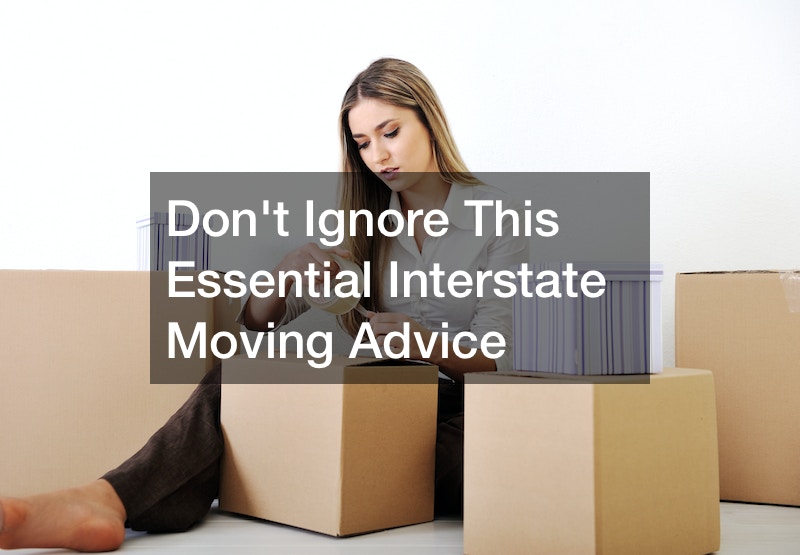 For some moves, all you need to do is load up the back of a van and start driving to your new home. On the other hand, a long-distance move calls for a lot more preparation and planning. With the right approach and tips, you won't have to worry about missing a beat from the time you learn you're moving until the day your belongings are delivered to your new home. The interstate moving advice below will help you stay on schedule and ensure a smooth move.
1. Make a Plan Using Interstate Moving Advice
An interstate move is a major undertaking that requires a good plan, especially because your realty property is a major investment. Considering you're about to move your possessions hundreds or thousands of miles away, come up with a plan listing every job you need to complete before and after moving to your new home. Do this as soon as you confirm you're relocating. The truth is, coming up with a plan is no easy feat, but it's one of the best interstate moving advice you'll ever get.
2. Stay on Schedule
After establishing a plan, you need to adhere to the schedule. You don't want to rush to do everything at the last minute. Tasks like school enrollment and utility installation are time-sensitive. Schedule time on your calendar for moving tasks or set reminders on your phone to stay on top of what you need to accomplish and when. This interstate moving advice will help you stay on schedule, setting you up for a stress-free move.
When organizing a long-distance move, try to find the best moving company. Obtaining long-distance moving quotes from three different moving firms is a great place to start. While booking your estimates four weeks before your move is recommended, the earlier, the better. Don't forget to adequately prepare your home for the estimate to ensure you get the most accurate price estimates.
4. Hire a Reliable Moving Company
After reviewing a few estimates and comparing prices, the next important task on the list is to hire movers from a reputable long-distance moving company. Although cost is a crucial consideration in this decision, the most affordable solution may not be the best. A moving company with great truck lettering doesn't necessarily mean it's the best. You don't want to fall victim to a moving scam when relocating thousands of miles away. This interstate moving advice significantly affects the outcome of your move.
5. Update Crucial Documents
A number of different services need to have your information updated when you change your address. On an interstate move, it's much more complicated. Your driver's license, registration, and other crucial papers might need updating. Before your move, prepare ahead by trying to research everything that needs to be updated. This interstate moving advice shouldn't be disregarded. Believe us.
6. Invest in Moving Insurance
Regardless of how much stuff you're moving with, try to understand what your insurance covers and does not cover. Before you move, sit down with your agent to discuss the moving-related coverage of your home and vehicle insurance. Additionally, while moving firms often provide limited insurance plans, consider getting a more comprehensive plan if you own several expensive or valuable items. Doing this will ensure your goods are protected in case of an event such as a trucking accident. Investing in moving insurance is one of the best interstate moving advice you will get.
7. Make a List of Everything You're Moving With
Your possessions may end up dispersed over several states or continents on a long-distance move. This is why it's crucial to make an inventory of all your possessions before the big move. Whether you prefer to use a notebook and pen or an app, ensure you have a comprehensive inventory list of everything you possess in one place. This approach will make it easier for you and the trucking company to figure out if all your belongings have arrived at your new home.
8. Plan Where Everything Will Go Before the Move
To avoid having to get rid of stuff when you get to your new home, determine whether your king-sized bed and five bookcases will fit the new space before moving them across the state. Try to gauge how much open floor space there is in the apartment or house rather than relying just on the square footage. By doing this, you can avoid being disappointed when you transport your bookshelf all the way to your new house only to discover that the reality isn't nearly as spacious as you anticipated. This interstate moving advice can also save on moving costs.
9. Downsize Your Possessions
One of our greatest interstate moving advice is to downsize as much as possible. For example, you can donate clothes you haven't worn in a while, kitchen appliances you haven't used, and books you won't be reading again. Seriously, if you don't use, enjoy, or need it to survive, either throw it out, give it to charity, or hold a garage sale. Getting rid of some belongings might reduce the cost of your move and make packing and unpacking much simpler.
10. Prioritize Belongings You Need to Carry With You
Prioritize what you need to bring with you before you start packing. As part of our interstate moving advice, we suggest packing an open-first box with necessities like bedding, towels, and a few pots, pans, and dishes that you'll need during your first few weeks. Don't forget to pack a bag with your favorite clothes, toiletries, and other personal necessities. By keeping these things close, you'll feel more at ease as you wait for the moving truck to arrive at your new house.
11. Consider Distance While Packing Boxes
This is one of the often overlooked interstate moving advice. While our top packing tips still hold true, a long-distance move calls for additional packing effort. For instance, when transporting fragile objects, take extra precautions by covering them with paper, bubble wrap, and old t-shirts. To keep things organized and ensure your movers are extra careful with these boxes, packing delicate objects together is recommended.
12. As You Pack, Organize Your Possessions
Unpacking is much simpler if you organize your possessions as you pack them. You can do this by arranging your possessions by room or area. For instance, if you have a desk, consider packing everything that sits on it in a single box. Additionally, you can assign each box a number that correlates with your inventory list. This will come in handy when the boxes are delivered to your house.
13. Write Your Name on the Boxes Per Common Interstate Moving Advice
On an interstate move, your moving boxes will probably be loaded into a moving truck with boxes from other households. Label every box with your name in large letters to prevent your possessions from getting mixed up or delivered to the wrong home. You should also consider adding your phone number to boxes you're worried about losing, just in case the box ends up at an incorrect address.
14. Let the Professionals Take Over
Even with the most effective time-saving moving techniques, packing alone can easily take months. Consider hiring professional packers if you work long hours, need to move quickly, or prefer spending time with friends. Having professionals bubble wrap and tape up your stuff can be invaluable, especially for long-distance moves. You can also consider hiring experts to clean your home or lend a hand in organizing before the move to save time in other areas. Just bear in mind that this interstate moving advice is pricey; so, make sure it's within your budget.
15. Think About Your Special Items
If you own special items such as a hot tub, a pool table, a piano, or a large safe, you might be wondering how to go about transporting them from one state to another. In most cases, such valuable items need specialized packing and handling or heavy hauling, which can only be done by trained, experienced professional movers. The idea of giving up any of your expensive and special items may be unsettling. However, with the best long-distance truck freight shipping services, you can rest assured that your items will reach your new home in one piece.
16. Move During the Off-Season
The summer months are when most individuals move, making it the most expensive season to hire a moving company. Instead, try to move during the off-season if at all possible. This can make your interstate move much easier and save you hundreds of dollars. If that's not possible, consider moving on a workday or in the middle of the month to save some money.
17. Think About How to Move Your Car
Consider driving your car to your new home to save money on the interstate move. If you choose this route, hiring an RV towing service can be helpful. However, if your move involves crossing the ocean or an extremely long distance, you'll need to ship your vehicle to your new residence. To avoid being stranded in a new town without a means of transport, prepare ahead and do your homework.
18. Plan With Your Delivery Window in Mind
Depending on several factors, the delivery window for your possessions might be more than two weeks after you move into your new home. It's important to plan how you'll live without the things you placed on the moving truck for the first month. Keep your open-first box, and your essentials close by to reduce the stress of waiting for your stuff to arrive.
19. Make an Effort to Know Your Move-In Situation
You need to be prepared when the moving truck arrives. Do some research on the parking policies of your new neighborhood. Make sure there's space for the moving truck to park when it arrives. Your moving company could charge an additional cost to transport your boxes on a smaller shuttle if there isn't enough room.
Ask your moving company about potential additional costs before your move to avoid being caught off guard. Check whether there are any move-in day requirements, such as whether you need to book a freight elevator if you're relocating to an apartment complex. You should also learn the real estate laws that apply to your new home. This interstate moving advice will help you better prepare for the move-in day.
20. Double-check Belongings Before the Movers Leave
Hopefully, you made a list of all your stuff when packing. Using this list, make sure the movers bring all your items to your new home. Before they leave the property, cross-check your inventory list several times. This way, you can easily identify missing items.
21. Find New Doctors and Pharmacies
Make any doctor or dentist appointments for every member of your family in your previous location, if necessary, as new appointments will take a while to schedule. Instead of taking a chance, fill prescriptions you or any of your family members need before leaving. You never know how long it will take to switch physicians and pharmacies.
Research physicians and any specialist doctors you'll need in your new area. Additionally, research local vets and read reviews about them. If your pet has any health concerns or requires a prescription refill, scheduling a last checkup with the previous veterinarian is a good idea. This interstate moving advice is worth its weight in gold.
22. Tip Your Interstate Movers
Don't forget to tip your movers, especially if they did a great job. This interstate moving advice is invaluable. Tipping shows that you're grateful for their hard work. Tip them a certain amount per hour of the move, or offer them some tasty snacks and a cooler of beverages upon arrival. You can also phone your moving company and inquire about the recommended tip percentage to be sure you're not breaking any rules. One thing is certain, your relocation estimate does not include a tip.
With these interstate moving tips, you won't have to stress about forgetting anything during the big move. Hiring a reputable moving company is the greatest and safest thing to do for your interstate move. Professionals can complete the task faster and more effectively since they have adequate experience and knowledge to ensure safe relocation.